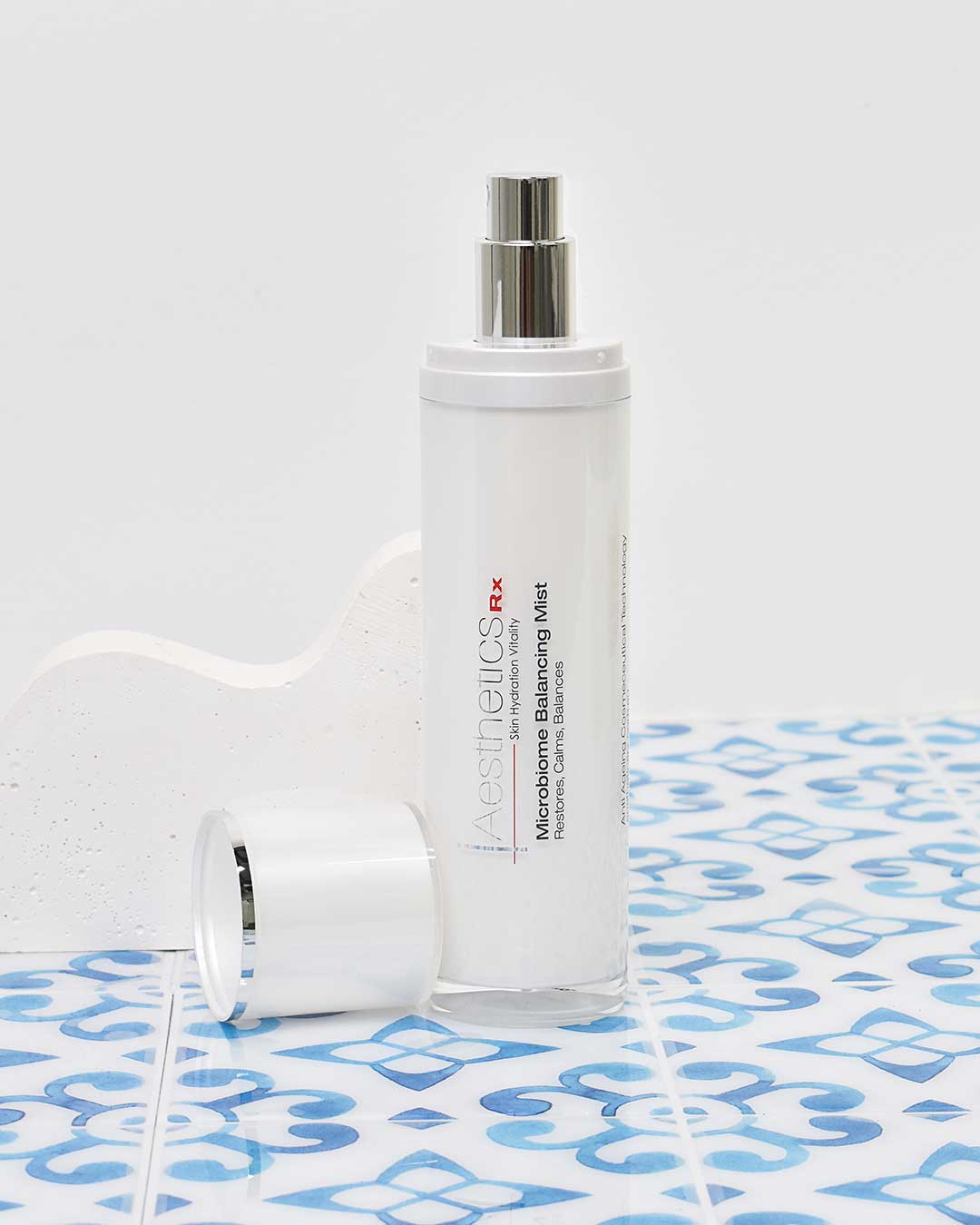 Microbiome Balancing Mist
Description
Microbiome Balancing Mist is an advanced, nutrient rich treatment formula designed to be used anytime day or night to instantly calm, hydrate and combat skin irritation. Regular use in your regime helps to reduce excess oil flow and strengthen the barrier function for improved skin comfort and protection. Developed to maintain health of the skin's microbiome, preventing the overgrowth of unwanted microorganisms. Naturally scented with essential oils of Grapefruit, Rosemary, Fennel, Rose Geranium and Spearmint.
We love it because
It instantly calms, refreshes, and refines the complexion at any time of the day or night, even over makeup.
Microbiome Balancing Mist Benefits:
Maintains and improves the barrier function of the skin
Reduces skin discomfort and irritation
Increases moisture levels in the superficial layers of the skin
Balances oil flow, helping to promote a fresh, matte complexion
Reduces the appearance of fine lines and wrinkles
Improves surface tone and elasticity.
How to
Use morning and evening after cleansing, spraying directly onto the skin, with the eyes closed; follow with your regular regime of serums and moisturisers. Use anytime during the day for a refreshing, refining, radiance boost, even over makeup.
Ingredients
Key Active Ingredients:
 
Inulin and Fructose – Natural prebiotics that have been proven to help rebalance the skin's microbiota. The prebiotic is based on inulin extracted from chicory root and it works to selectively support protective organisms to help restore the microbiota layer after disruptions to its integrity. Secondary benefits include natural skin conditioning effects.

Seboreductyl ™ – An active ingredient complex indicated to help modulate and reduce excess sebaceous secretion and excretion. It inhibits the 5a-reductase enzyme, with the action of the group B vitamins Pyridoxine, Niacinamide, Panthenol.
– Pyridoxine, Vitamin B6 stimulates the production of filaggrin, which is essential in maintaining moisture levels in the Stratum Corneum. Filaggrin is a natural moisturiser within the skin that contains a number of moisture attracting amino acids; it binds to keratin, playing a key role in the skin's barrier function. It works to bind together structural protein (keratin) in the stratum corneum to form tight bundles, flattening and strengthening the skin cells to create a strong barrier. Skin clarity is improved by vitamin B6 because it is helpful in balancing oil flow and soothing skin irritations.
– Niacinamide, Vitamin B3, assists building keratin protein in the skin, helping to provide a lipidic barrier, protecting against environmental damage. It helps regulate oil flow, reduce redness and irritations, as well as even out skin tone.
– Panthenol Vitamin B5 reduces trans epidermal water loss (TEWL) by attracting and retaining moisture in the skin. Also helps to reduce sensitivity in irritated skin.
– The effect of the mushroom Fomes officinalis in the Seboreductyl™ complex, helps refine and reduce the appearance of enlarged pores.
– Allantoin provides a calming effect on the skin, reducing irritation common with oily skins.

Gotu Kola Extract (Centella Asiatica) – Used to help promote wound healing and tissue regeneration. It may help reduce the potential for scarring

Beta Glucan (Oat) – Anti-aging, anti-irritation, moisturises, reduces fine lines and wrinkles, reduces redness, soothes.

Derma Peptide toning (biotechnology derived) – Targets the dermal epidermal junction to improve an overall more youthful appearance, toning and improving elasticity of the epidermis.

Full Ingredient list:

Purified Water, Glycerin, Polysorbate 80, Butylene Glycol, Hydrolyzed Yeast Protein, Fomes Officinalis (Mushroom) Extract, Pyridoxine, Niacinamide, Panthenol, Allantoin, Threonine, Biotin, Yeast, Inulin, Fructose, Centella Asiatica Extract, Prunus Armeniaca Kernel Oil, Tocopherol, Phenoxyethanol, Ethylhexylglycerin, Beta Glucan, Aloe Vera Leaf Juice Powder, Disodium EDTA, Citrus Paradisi Peel Oil, Rosmarinus Officinalis Leaf Oil, Pelargonium Graveolens Flower Oil, Mentha Viridis Leaf Oil, Foeniculum Vulgare Oil.
Free shipping Australia wide on orders over $60.
Free samples with every order.
---
Goes well with:
Microbiome Balancing Mist
Discover what Aesthetics Rx Customers have to Say
Customer Care
Free shipping
Free standard shipping Australia wide on orders over $60.
Orders placed Monday to Thursday will be processed the next working day. Orders placed after 11am on Friday will be processed the following Monday.
Order tracking
Once your order has been dispatched, you will receive your tracking number.
Anti-Pollution Facial Cleansing Oil
Award-Winning
Have you tried our award-winning cleanser? Our Anti-Pollution Cleansing Oil has won Prevention Magazine Best Hydrating Cleanser at the Prevention Best of Beauty Awards 2022.
Silky, sublime textured oil delicately scented with an aromatic fusion of pure natural oils, the Anti-Pollution Facial Cleansing Oil provides triple anti-oxidant shelter and gently detoxifies with the Lipochroman® molecule. Biome Oleoactif®, an eco-designed active, reinforces epidermal barrier integrity and supports and preserves the skin's microbiota. 
SHOP NOW