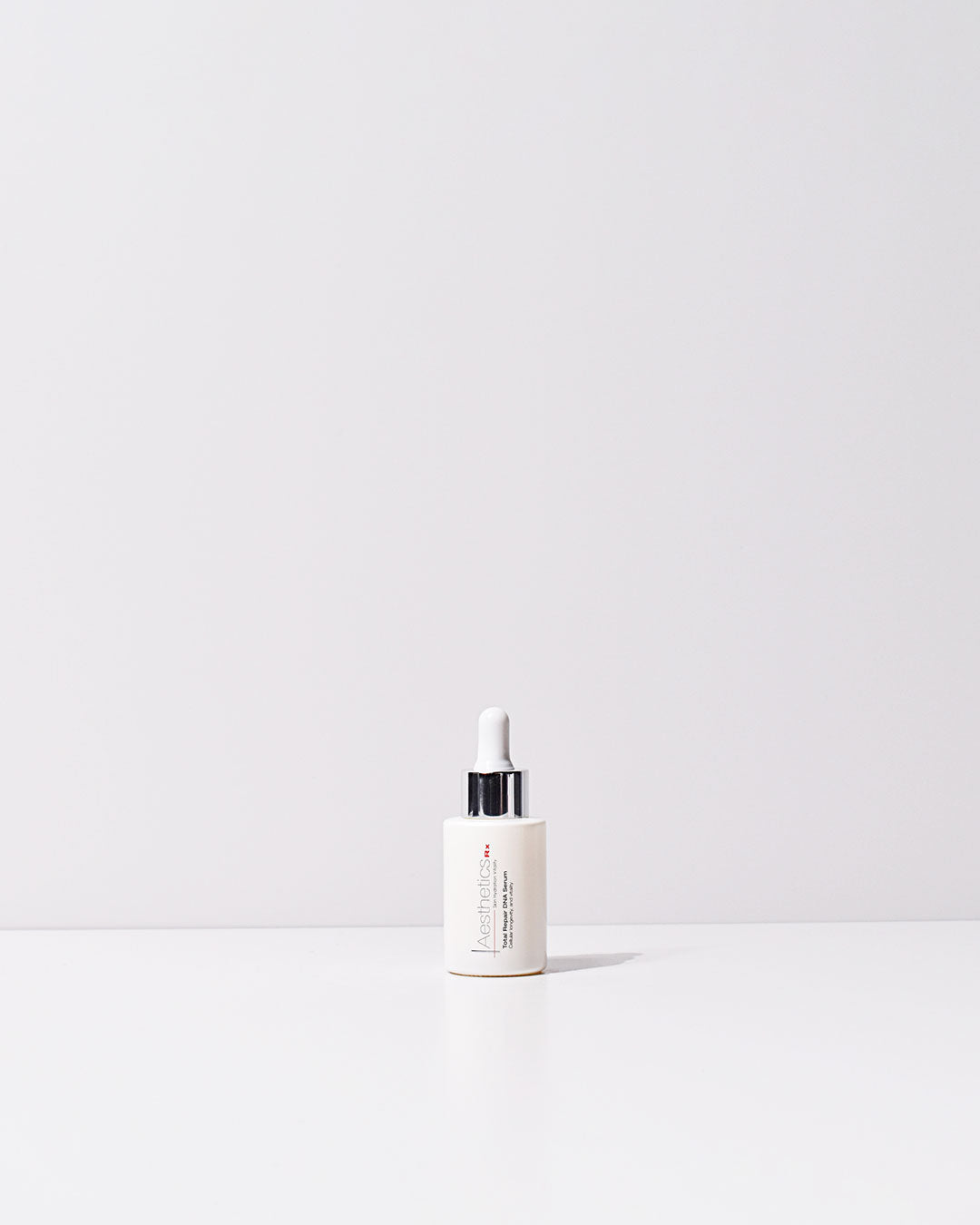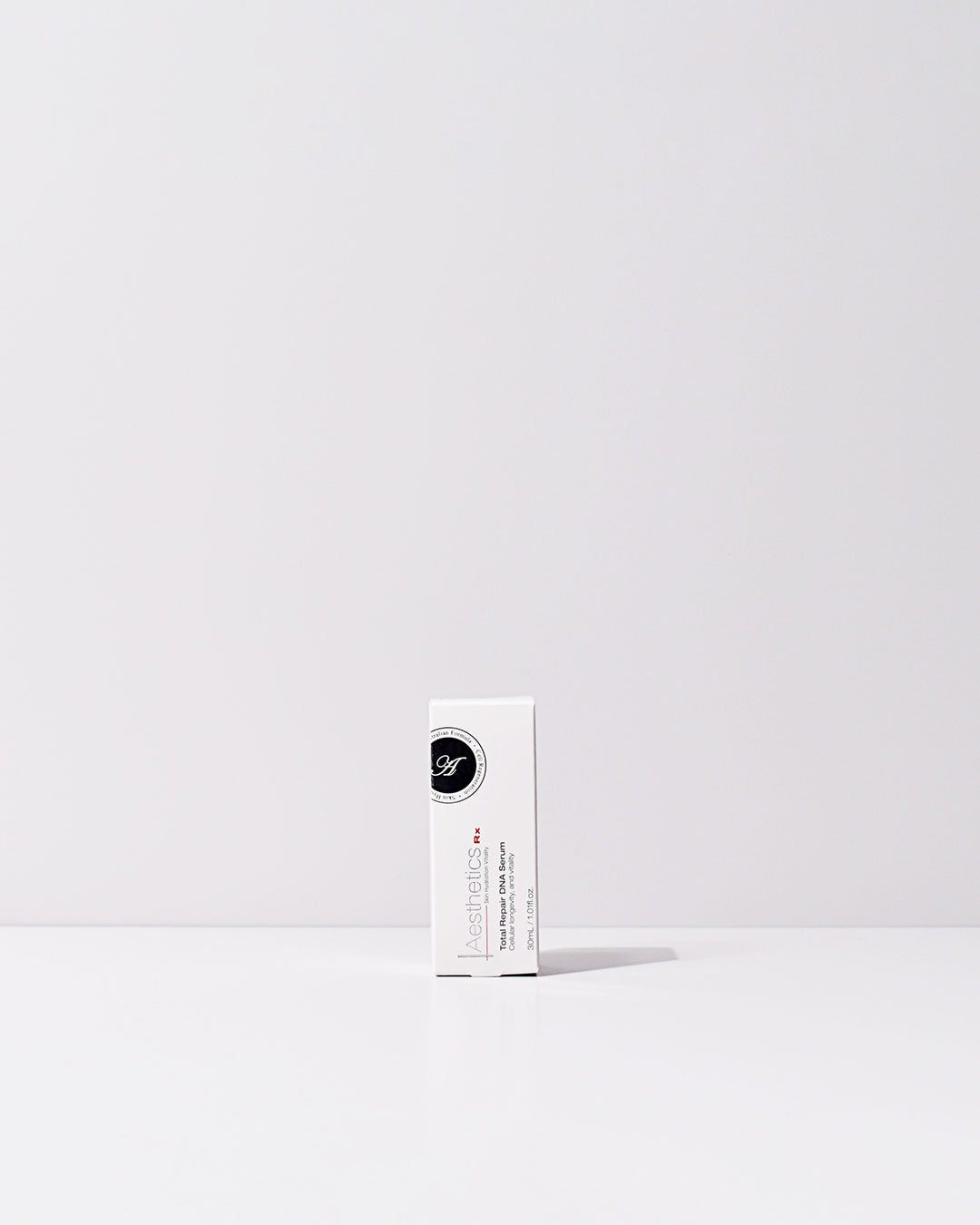 Description
Total Repair DNA Serum is the most comprehensive and advanced formula ever at Aesthetics Rx. With sophisticated recover, repair, and rejuvenating skin benefits this serum is our highest performing, restorative night treatment that healthy, glowing skin cannot do without. 360° anti-ageing skin benefits include:
Reduction in the signs of accelerated skin ageing
Smoother, more refined, and supple skin texture
A more even skin tone
Powerful defence against pollution and free radical damage
Improves the appearance of fine lines and wrinkles associated with accelerated skin ageing
A more radiant and glowing complexion upon waking
We love it because
This lightweight serum-cream fully absorbs on application at night and the skin is noticeably smoother and more radiant the following morning. Containing Retinal, it has the super-power of Vitamin A, but without the unwanted side effects. Peptides and growth factors in this formulation provide unrivalled skin repair and regenerative benefits.
* This product is potent. It is designed only for skin that has been prepped in advance. Certain other products mustn't be used at the same time. Please see usage page.
How to
This product is only to be used at night.

After cleansing at night, dispense 1-3 drops to the fingertips and smooth over the face and neck until absorbed, avoiding the eye contour. Follow with Aesthetics Rx moisturiser and/or facial oil to complete the nightly regime.

If discomfort occurs, rinse with warm water. For external use only.

Store below 25 ̊C.

Are there any precautions?

This serum is designed to speed up cell renewal. It can make your skin more photo (sun) sensitive than usual. You must use SPF50+ during the day, every day, but especially when you are using this product, or any Vitamin A based product.

We also recommend wearing a sunhat if you are going to be exposed to the sun.

It is recommended to cease other treatments (facial waxing, microdermabrasion, chemical peels and laser treatments) whilst using this product and for at least 3 days before having one of these treatments, and 7 days after one of those treatments.

It is recommended not to use this or any Vitamin A products when you are pregnant. If you started using the product, or a Vitamin A based product before you realised you were pregnant, it ok! Just cease using the product/s until after the birth of your baby and you've finished breastfeeding.

We recommend if you are using a C Serum, you use the Vitamin C serum during the day and use the Vitamin A serum, including Total Repair DNA Serum at night. Don't use them together.

If you happen to experience a response that is more than just mild, we recommend ceasing use immediately. Cool water compress is the best way to manage discomfort, irritation or redness in this instance.

It can be useful to cease using other active products like Glycolic acids, Lactic acids, Salicylic acids and Enzyme peels when you are using this product. Don't use other Vitamin A based products while you are using this product.

We recommend not using Ultimate Serum, A Serum or A Serum 1% whilst you are using Total Repair DNA Serum. And, many skins will benefit from using this product sparingly, at the rate of 1 -3 nights per week only, particularly as the skin may take time to tolerate it.
Ingredients
Key active ingredients:

Hexapeptide – Biomimetic peptide that improves the skins natural DNA repair pathways, enhances cellular longevity and vitality. Protects and prevents DNA damage from UV light and pollution.

Hyaluronic acid – high and low molecular weight Hyaluronic acid to provide immediate and long-lasting hydration, with additional collagen boosting and cellular cohesion benefits.

Epidermal Growth Factor – a completely vegan active, that contains five different growth factors (IGF-1, EGF, acidic FGF, basic FGF, and VEGF), amino acids and vitamins. These growth factors work synergistically with keratinocytes and fibroblast cells contributing to wound healing, cell growth, wrinkle reduction and improved hydration. 1 Reduces facial wrinkles by 13% in 2 weeks and 16% in 4 weeks on crow's feet.

Lipochroman Molecule – superb triple antioxidant and protective shield against pollution and oxidative stress. Prevents skin damage by RNS, ROS and RCS, activates detoxification.

Retinal – Retinal is a completely natural Retinoic acid precursor, one conversion step away from Retinoic acid (the metabolised retinoid form that the skin can use) versus a two-step conversion away for Retinol. Retinal has a more controlled delivery at a cellular level when compared to Retinol, resulting in fewer adverse effects. Retinal is clinically proven to be a more stable retinoid with enhanced skin tolerability compared to Retinol. Proven topical agent for the treatment of prematurely aged skin, photoaged skin and for the treatment of acne and mild Rosacea. Increases skin elasticity, protects against free radical damage, increases dermal density, reduces the appearance of lines and wrinkles, smooths skin, reduces hyperpigmentation. With antibacterial properties Retinal may improve signs of acne. Improves the appearance of vascularisation and redness.

Micro algae and Polysaccharide complex – biotechnologically produced extract from the microalgae Nannochloropsis oculate, combined with a well-balanced fraction of polysaccharides– provides instant tightening effect and long-term skin firming benefits.

Seabuckthorn Oil – nourishing oil rich in essential fatty acids and exceptional antioxidant benefits. Contains Linoleic acid (also found in the skins natural sebum) which helps regulate hydration and balances oil on the skins surface. Anti-bacterial and anti-fungal properties.

Full ingredients list:

Aqua (Water), Shea Butter Ethyl Esters, Brassica Glycerides, Propanediol, Butylene Glycol, Glyceryl Stearate SE, Behenyl Alcohol, Phenoxyethanol, Glycerin, Pullulan, Hydrolyzed Hyaluronic Acid, Butyrospermum Parkii (Shea) Butter, Sodium Hyaluronate, Lecithin, Sodium Acrylates Copolymer, Nannochloropsis Oculata Extract, Hippophae Rhamnoides (Seabuckthorn) Fruit Oil, Disodium EDTA, Sodium Hydroxymethylglycinate, Retinal, Ethyhexylglycerin, Lysolecithin, Sclerotium Gum, Tocopherol, Dimethylmethoxy Chromanol, Xanthan Gum, Acetyl Glutamine, Glycine Soja (Soybean) Oil, Potassium Sorbate, Sodium Benzoate, Bacillus/Folic Acid Ferment Filtrate Extract, Caprylyl Glycol, 1,2-Hexanediol, Acetyl Hexapeptide-51 Amide, sh-Oligopeptide-1, sh-Oligopeptide-2, sh-Polypeptide-1, sh-Polypeptide-9, sh-Polypeptide-11, Citric Acid.
Free shipping Australia wide on orders over $60.
Free samples with every order.
---
Goes well with:
Beautiful Product!
Beautiful product, goes on nicely and you wake up the next morning with glowing skin. I have only been using it for about 2 weeks but could definitley see the difference after the 1st use. I use this followed by the night cream. Highly recommend
Discover what Aesthetics Rx Customers have to Say
Customer Care
Free shipping
Free standard shipping Australia wide on orders over $60.
Orders placed Monday to Thursday will be processed the next working day. Orders placed after 11am on Friday will be processed the following Monday.
Order tracking
Once your order has been dispatched, you will receive your tracking number.
Anti-Pollution Facial Cleansing Oil
Award-Winning
Have you tried our award-winning cleanser? Our Anti-Pollution Cleansing Oil has won Prevention Magazine Best Hydrating Cleanser at the Prevention Best of Beauty Awards 2022.
Silky, sublime textured oil delicately scented with an aromatic fusion of pure natural oils, the Anti-Pollution Facial Cleansing Oil provides triple anti-oxidant shelter and gently detoxifies with the Lipochroman® molecule. Biome Oleoactif®, an eco-designed active, reinforces epidermal barrier integrity and supports and preserves the skin's microbiota. 
SHOP NOW